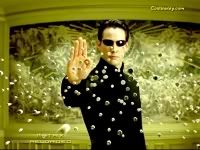 yea yea, i'm a huge matrix fan. so sue me.-.-"
anyway, i found some parts of the Matrix script to have some sort of a religion reference which i kinda agree on..
"The Matrix is a system Neo. That system is our enemy. When your inside, look around you......

.... most of these people are not ready to be unplugged. And many of them are so inurged, so hopelessly dependent on the system, that they will fight to protect it."
this for example, was told to Neo by Morpheus during the Agent Training Program, and Morpheus gives that little speach concerning the people still plugged in.
taking this into context, That sounds like people and religion. Whenever it is threatened, followers have always defended it and fought for it and killed for it. More obvious in the early centuries, but it still is going on today.
I take that same quote to mean that many people are so attached to this world that they refuse to give up what it offers for the sake of living the life that Christ wants them to live.
to be honest, i have no qualms or grudges against any religion or any god, be it buddha, jesus, god, mother mary, allah, shiva, goddes of mercy etc.
Because, religion, in my most humble opinion, no matter how different they seem to be, all lead to one thing - the improvement of oneself.
unfortunately, some people just turn religion into something totally different and that's where all the grudges come out.
BTW, the script for The matrix is down. the scipt for reloaded though, is still up http://www.geocities.com/tielergames/mxrlsp01.html
"Then tomorrow we may all be dead. But how is that different from any other day? This is a war. We are soldiers. Death can come for us at any time...In any place. Now consider the alternative. What if I am right? What if the prophecy is true? What if tomorrow this war could be over? Isn't that what we've been fighting for? Isn't that worth dying for?"
i love this quote because of the way it can be applied to so many different places, and yet still stay in context.